Farrell Hair is proud to announce the new and improved Farrell mobile app. Our app for the Iphone, Ipad and Android devices has been fully redesigned, and boasts loads of new features!
Our Tour Schedule has been updated to display our upcoming tour dates for the next several months, so you'll always know when we're in or near your city.
We now use Apple Streaming for our Video Gallery, which means that you will no longer have to go into YouTube to view the videos you want to see. Now, they'll stream right to you within the app.
In-app Notifications, which will keep you up to speed on the latest at Farrell Hair Replacement, and can be used by Los Angeles residents to set up free consultations.
Our Photo Gallery has been updated to show more amazing photos of our hair systems.
Last but not least, the app is now universal, so it displays and functions beautifully on the iPad.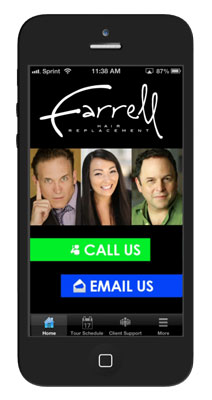 New logo and back end overhaul.
The ability for clients to log in to Client Support via the app. Now, all of the how-tos, instructional videos and other support items can be accessed on the go!
The creation of a built-in Product Catalog that allows people to browse our salon and hair system products.
Download Information
The android version of the app may be downloaded at Google play. For the iOs version, which is compatible with any iPhone or iPad that is running iOS 4.3 or later, visit the iTunes App Store.